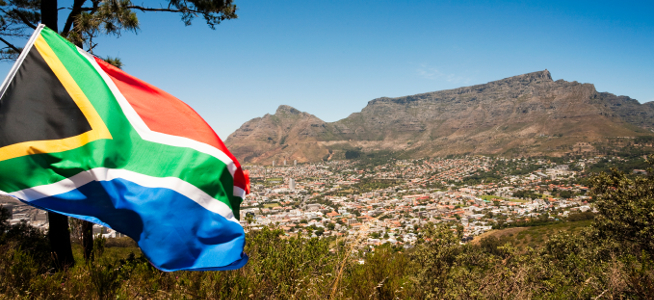 South Africa Cruises
Known throughout the world as the Rainbow Nation, South Africa is a vibrant and colourful destination for those who want to enjoy a cruise break – with plenty to see and do no matter where you decide to head.

A top port of call for those on a South Africa cruise is Cape Town, located on the southern tip of the African continent.

One of the most popular tourist destinations in the country, Cape Town is packed with first class attractions that will leave visitors spoilt for choice when it comes to their time in the city.

Arguably Cape Town's most famous attraction is Table Mountain, which stands over the city and is easily accessible by Cable car; which provides the chance to take in impressive views across the surrounding region.

That view will include Cape Point, the most South Western point of the African continent, and a region well worth exploring if your time allows. Close to Cape Town, you can also embark on a trip to Robben Island to visit the prison where Nelson Mandela spent part of his time behind bars.

Alongside the winegrowing region of Stellenbosch and a selection of impressive beaches, Cape Town itself it packed with impressive architecture, popular museums and theatres, first class shopping and a raft of different options for those who want to sample the best in South African cuisine.

Another popular destination for those taking in a cruise around South Africa is Durban on the East coast.

Popular for its stunning beaches, most notably the Golden Mile, Durban is one of South Africa's top resorts and is packed with a mix of cultures that helps to ensure a real cosmopolitan experience when you disembark in port.

As well as exploring everything that Durban has to offer, a stop in port also opens up the opportunity to head out of the city to take in a visit to a game reserve or to a local Zulu village.

Add into the mix further wildlife opportunities in locations such as the famed KwaZulu-Natal region and it's easy to see why South Africa is a popular option for those who want a taste of everything the continent has to offer.