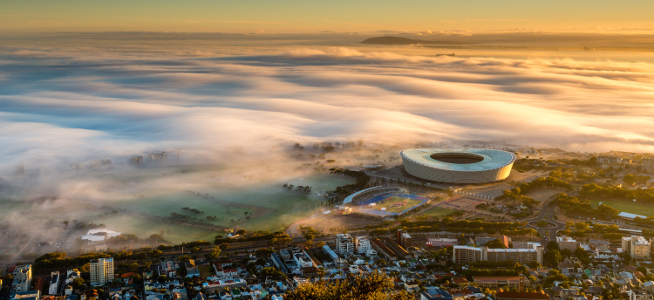 Cruises from Cape Town
One of the most well known cities in South Africa, Cape Town is also one of its most visited; being universally regarded amongst the premier destinations anywhere in the world.

Located towards the top of the Western Cape under the shadow of Table Mountain, modern day Cape Town is seen as one of Africa's jewels, being rich in history and culture and offering ample opportunity to uncover the multi-cultural nature of a vibrant and friendly city.

The chance to explore whilst ashore is something that those visiting Cape Town will be able to embrace, with a variety of attractions both within the city limits and further afield.

In fact, it is heading out of the city that gives visitors the opportunity to visit Cape Town's major sights, with a visit to Table Mountain in particular being something that shouldn't be missed.

Visiting the Table Mountain National Park provides the chance to explore the famous mountain itself, with a cable-car trip to the summit rewarding visitors with stunning views across the surrounding area. You could also go hiking along one of the various trails, try your hand at rock climbing or even head underground to explore a network of sandstone tunnels.

Within the same National Park, you could also visit the Cape of Good Hope; one of Africa's most southerly points and a location famous with sailors from around the world.

Elsewhere outside the city, you could head along the coast to visit some of the top wine growing regions of the country, such as Stellenbosch, or take a trip to Robben Island; the UNESCO World Heritage Site where former president Nelson Mandela spent a large portion of his time behind bars.

Simonstown, less than an hour away, could also be worth exploring to pay a visit to the colony of Africa penguins that call Boulders Beach home.

For those who prefer not to venture too far away, Cape Town is home to a selection of beaches that are perfect for relaxing on whilst there are a range of historical buildings that can be explored on a trip around the city streets – many of which can be viewed on a special sightseeing open bus tour and provide an insight into the city as well as South Africa as a whole.

Those may include the City Hall and the colonial Martin Melck House, whilst Cape Town also offers a range of dining and shopping options.