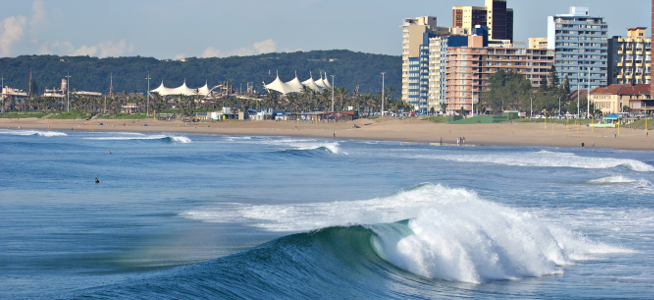 Cruises from Durban
Situated on the eastern coast along the fringes of the Indian Ocean, Durban is one of South Africa's most cosmopolitan cities and one that that is popular with those visiting from overseas.

That includes those who are enjoying a cruise around the continent, with a number of leading cruise lines operating itineraries that dock in what is one of Africa's largest ports

Durban sits on the eastern coast of South Africa and is one of the largest cities in the country, with a diverse population ensuring a true multi-cultural experience for anyone paying a visit.

Whilst there are a number of attractions to be found outside the city, Durban itself also has plenty to offer those who prefer to stay close to port during their time ashore.

Chief amongst those attractions is the Golden Mile, a popular stretch of beachfront famed for its golden sands. Here, there is ample chance for those who want to simply lay back and relax to make the most of the warm climate on the beach, whilst the waters off the coast are suitable for a wide range of activities – such as surfing and diving.

Along the coast, you could also pay a visit to the uShaka Marine Park, one of South Africa's most popular theme parks where you can enjoy a range of water based rides, marvel at marine life in a large aquarium or partake in some retail therapy at a unique shopping mall.

Elsewhere within Durban, visitors can explore the large Markets of Warwick street market, take a stroll through the impressive Botanical Gardens or visit one of the various historical buildings across the city – such as the Tudor-styled Playhouse, the Central Post Office and the City Hall; the latter now home to a range of different museums and attractions.

Outside the city limits, the Phezulu Safari Park is within easy reach of Durban and offers the chance to get close to a wide range of native wildlife, whilst the Valley of 1,000 Hills and the Drakensberg Mountain Range amongst the natural delights to be found nearby.