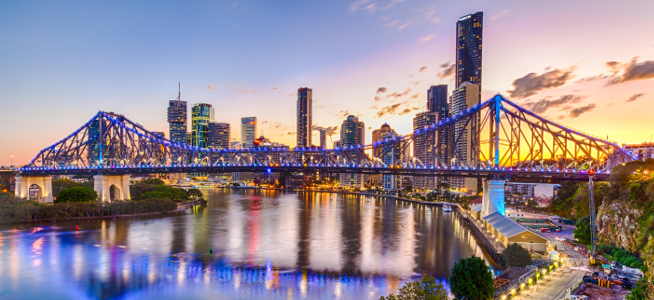 Cruises from Brisbane
Brisbane may not be the first destination that springs to mind when it comes to a holiday in Australia, but the third most populous city in the country is a popular option for those who are heading along the Queensland coast as part of their cruise.

A vibrant and cosmopolitan city, Brisbane is packed with attractions, including the iconic City Hall and the Museum of Brisbane – which where you can learn all about the history of the city since its formation on the banks of the Brisbane River.

The Queensland Gallery of Modern Art and Queensland Museum serves only to further showcase the region, while a trip to the Story Bridge offers chance to take in a unique view of the city with a climb to the summit.

Visitors to Brisbane can enjoy first rate shopping, impressive dining and top class entertainment, with South Bank Parklands in particular being well known for the festivals and events held throughout the year.

For lovers of wildlife, there is the chance to head for the Lone Pine Koala Sanctuary to get close to one of Australia's most famous species, while Australia Zoo – the park known around the world thanks to the late Steve Irwin – can be found north of the city en-route towards the Sunshine Coast.

Heading south from Brisbane, travellers can take a trip to the famous Gold Coast to hit the beach at Surfers Paradise; with one of Australia's premier tourist resorts being home to top class shopping, wide ranging entertainment and the Skypoint – an observation deck more than 200 metres in the air providing astonishing views across the coast.