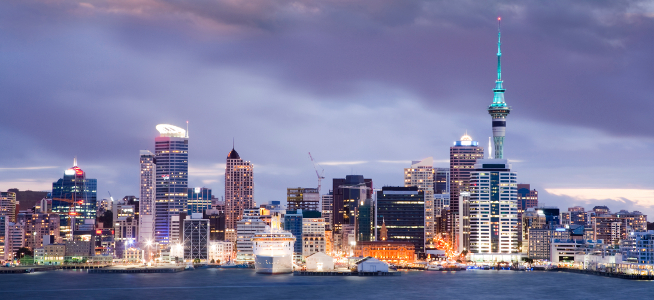 Cruises from Auckland
The largest city in New Zealand, Auckland acts as the gateway to the delights of the North Island but is also worthy of exploration in its own right.

Having docked in the heart of the city, you'll have easy access to Auckland's main attractions, most of which can be accessed on foot.

One of the first places many elect to head is Sky Tower, one of the most famous buildings to be found on New Zealand soil. Measuring in at more than 1,000 feet tall, the tower is the largest man-made structure in the Southern Hemisphere and has become known as a symbol of the city thanks to its unique design.

No fewer than three viewing platforms offer the chance to take in stunning views of the city, whilst there is also a range of dining options – including a revolving restaurant.

For those looking for an adrenaline-fuelled experience, the SkyJump provides the chance to jump on a wire from a height of 192 metres to the ground below, while the SkyWalk allows visitors to walk around the tower on a narrow platform at the same height.

For those with less of a head for heights, an alternative location from which to take in views of the city is Mount Eden; a volcanic cone located in one of Auckland's more vibrant suburbs.

History buffs will enjoy the chance to pay a visit to Auckland Museum, while for lovers of wildlife, both Auckland Zoo and the large aquarium on the edge of the river are worthy of a visit. There are also countless bars and restaurants to enjoy, while the area round Queen Street in particular is popular with those looking to enjoy a touch of retail therapy.

Outside Auckland itself, the nearby village of Devonport is accessible by ferry and popular thanks to its history and character whilst Waiheke Island is also well visited by travellers – thanks in no small part to the numerous beaches that line the coast.

Further afield for those who want to enjoy a day trip while docked in Auckland are a number of vineyards and wineries, as well as the famous glow-worm caves at Waitomo and the geothermal town of Rotorua; known for its cultural importance to the Maori people.