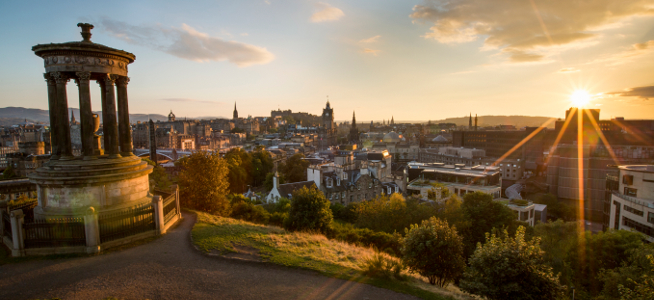 Cruises from Edinburgh
Anyone who wants to include Edinburgh on their cruise around the UK will have a number of options available to them – with a selection of ports granting easy access to the Scottish capital.
Regardless of which port you sail in to, you'll have easy access to the many attractions to be found across Edinburgh; a number of which can be found along the famous Royal Mile.
At one end, you'll find one of the most well-known landmarks in Scotland; Edinburgh Castle. Located on Castle Rock, the Castle dates back to the 12th century and is one of the most visited attractions in the country, as well as being host to a number of important events – such as the annual Military Tattoo.
A daily highlight comes in the form of the One O'Clock Gun; a signal fired at 13:00 every day from the north side of the castle.
Along the Royal Mile, you can then visit a number of other tourist sites like St Giles' Cathedral, the National Museum, and the Camera Obscura World Of Illusions – one of the oldest visitor attractions in the city.
Once you get to the other end, you can visit Holyrood and stroll around the large park that surround the monarch's official residence in Scotland. You can also head up Arthur's Seat to take in views across the city.
Alongside other attractions like the Royal Yacht Britannia – which now resides in a dock in Leith as a permanent attraction – and the Scotch Whiskey Experience, Edinburgh is home to a plethora of bars, restaurants and cafes that provide ample opportunity to relax and enjoy the Scottish hospitality.