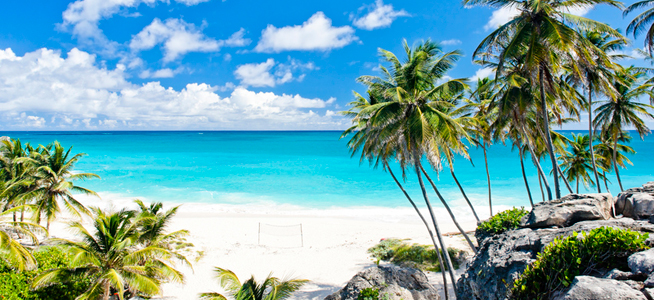 Barbados Cruises
One of the highlights of any trip to the Caribbean, Barbados provides a little slice of paradise for those who visit its shores to explore its impressive coastline.

With impressive weather all year round, there is ample opportunity to make the most of the beaches that line the coast. Here, you can lie back and relax on white sand or take a dip in inviting clear blue water, which is also perfect for those who enjoy snorkelling and diving.

In fact, Barbados is regarded as one of the top diving sites in the Caribbean thanks to a series of reefs and ship wrecks located close to shore; including the former freight vessel the SS Stavronikita and the Marine Park in Carlisle Bay.

The main port of call for those on a Barbados cruise is the capital city Bridgetown, which is packed with highlights that showcase the colonial past of the country. A version of Nelson's column is a perfect example of the English character that still exists.

Historic Bridgestown and its Garrison in particular have been well-preserved and are now on the UNESCO World Heritage List as a prime example of British colonial architecture.

The former military prison in the Garrison is home to the Barbados Museum and Historical Society, which is one of the top attractions to be found on the island.

While famed for its beaches, a cruise around Barbados provides travellers with a range of other treats.

Hike into the national parks, get close to nature in a wildlife reserve, indulge in some retail therapy, hit the bars and make the most of the nightlife and enjoy the best in local cuisine.

There is also the chance to sample the best in Barbados rum, with a tour of the Mount Gay Rum visitors centre being a must for those who are partial to the drink.

Packed with things to see and do, Barbados is an island that is sure to keep you entertained.