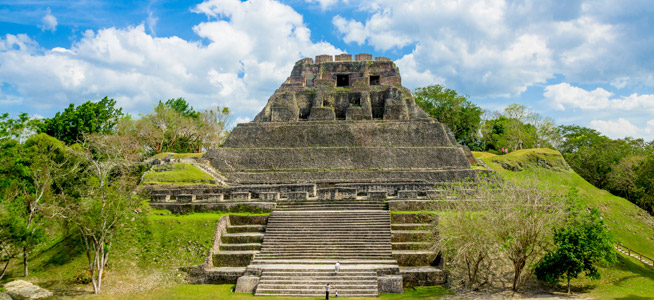 Belize Cruises
Bordering Guatemala and Mexico, Belize is becoming an increasingly popular destination for those sailing around the Western fringes of the Caribbean.

The Central American country is known for its impressive landscapes and picturesque beaches, which have helped to make it particular inviting for those holidaying at sea in the region.

The main destination for the major cruise lines that operate trips to the country is Belize City, which acts as the gateway to the major delights that await inland.

While the city itself isn't hugely popular with tourists, there is the chance to explore the old city to check out some of the sights or to try and pick up some local souvenirs before heading in land.

Having been the heartland for the Maya civilisation, Belize is home to a number of important archaeological sites that date back thousands of years. Amongst those worth a look are Caracol, Cerros and Xunantunich, with the ruins that now remain giving a fascinating insight into a bygone era.

Alongside mountainous rainforests, visitors to Belize can go underground to explore a huge network of caves while its coast is famed for its diving and snorkelling opportunities.
Here, there is ample opportunity to marvel at the Belize Barrier Reef, which is one of the largest in the world and home to a range of marine life.

With a large perecentage of the country being designated as protected land, a Belize cruise is ideal for those who want to get closer to nature and provides an interesting alternative to the nearby Caribbean islands.