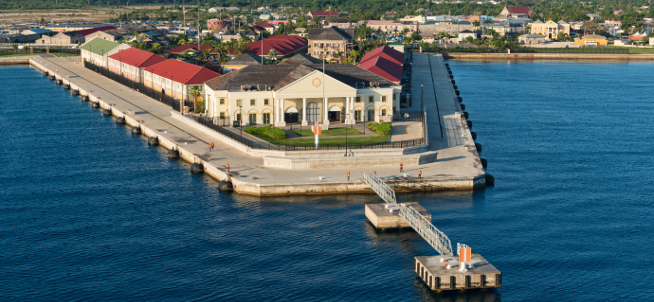 Falmouth Cruises
Situated on the north coast of Jamaica, Falmouth is one of the best examples of a preserved Georgian town to be found anywhere in the Caribbean.

Once one of the busiest shipping ports in the country as goods like coffee and rum were exported to other areas of the world, Falmouth is now a popular destination for those cruising around the region - with the opening of a new port in 2011 allowing the largest cruise ships to dock in the town.

That new port provides an insight into what is to come within the town, having been designed to reflect Falmouth's Georgian heritage. You'll soon have the opportunity to partake in some duty free shopping or to head for the local craft market whilst within the new port complex before heading off to explore the town itself.

Here, you can take in the impressive architecture to be found across Falmouth's many old buildings, such as the Court House or Anglican Church, sample some authentic Jamaican cuisine or take a seat in Water Square and see the local people going about their daily business.

Those who want to explore further afield can take in one of a number of different excursions to the surrounding area.

That includes a selection of nearby beaches, including Montego Bay, the waterfalls and rainforest adventure parks up towards Ocho Rios and the former sugar plantation of Good Hope Tree House.

Here, you can relax on a private beach, take a tour of the house or head for a dedicated childrens area which is packed with activities for the younger traveller.

You could also enjoy the chance to cruise on a raft along the Martha Brae River before continuing with your trip around the Caribbean.