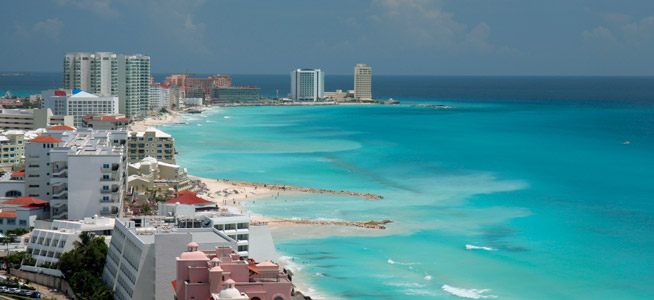 Mexico Cruises
Vibrant and colourful, Mexico is a country that is worth exploring on any journey around the Caribbean, with its Western coast being the gateway to a wide range of delights.

For those who like to relax on the beach, the island of Cozumel just off the coast is a popular destination thanks to its gorgeous white sand and the clear blue sea.

That sea is also perfect for those who want to try their hand at a selection of different watersports, or who want to go snorkelling or diving to admire the marine life that lives in the reefs that line the coast.

Crossing to the mainland, Playa del Carman has emerged as one of Mexico's most popular destinations having developed rapidly from the fishing port it once was.

As well as top class shopping, travellers can enjoy the best in Mexican cuisine or relax on the impressive beach.

Along the Riviera Maya, which is one of Mexico's most popular tourism districts, there is the chance to take in a range of activities on both land and at sea, while a visit to the famous resort of Cancun provides the chance to enjoy the best in Mexican hospitality.

No cruise around Mexico would be complete without delving into the past, and the imposing coastal walled city of Tulum is one of the best examples of Mayan architecture.

Even more impressive for those able to venture inland is the world famous site of Chichen Itza. Dominated by the pyramid-shaped castle at its centre, the ancient Mayan city is one of the most visited destinations in the country and dates back thousands of years.

Add into the mix the chance to explore the diverse landscape and there is little doubt that a Mexico cruise will be more than memorable.