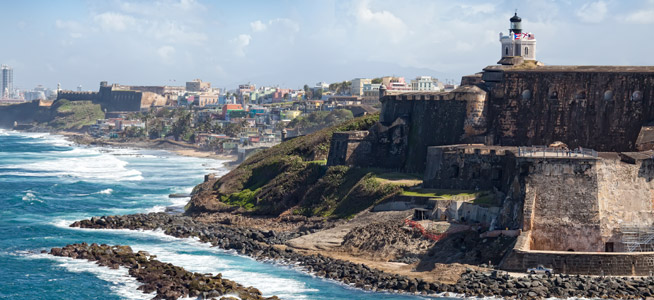 Puerto Rico Cruises
Old meets new on the island of Puerto Rico, which promises to pack a punch for those who pay a visit during the course of their Caribbean trip.

Located in the heart of the Caribbean close to the Dominican Republic, a Puerto Rico cruise combines impressive beaches – complete with clear blue waters and mile after mile of coral reefs – with luscious green forests to create a tropical paradise for travellers to enjoy.

While Puerto Rico is made up of a number of islands, it is the main island – which shares the same name – that is the most popular with visitors.

Impressive architecture can be found in Old San Juan, the oldest part of the capital San Juan, while the city is also home to a wide selection of museums and galleries for those who want to explore the heritage of the country.

The Spanish-built Castillo de San Cristobal and the Castillo San Felipe del Morro are amongst the highlights.

The cobblestone streets of Old San Juan are also a great location for checking out the local shops and for sampling some of the top dining experiences, while nearby Condado is the place to go for famous luxury brands and the best nightlife.

Away from the city, the likes of Carolina Beach, Punta Salinas and El Escambrón are all close to the capital for those who want to relax, while Flamenco Beach on the nearby island of Culebra is regarded as one of the best in the Caribbean.

The El Yunque Rainforest is also waiting to be explored and is one of a number of locations on Puerto Rico where thrillseekers can indulge in some ziplining – ensuring that a cruise around Puerto Rico is as much about the fun as it is about the sun.