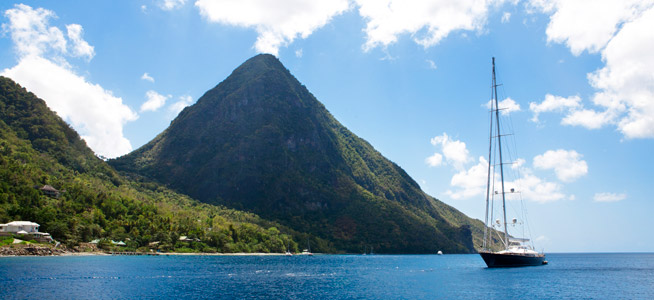 St Lucia Cruises
Featuring some of the best scenery in the region, St Lucia is one of the true gems of the Caribbean and a popular port of call when cruising in the region.

With gorgeous white sandy beaches, stunning waterfalls, lush forests and an array of working plantations, the island is ripe for exploration and there can be no better way than on a St Lucia cruise.

The main destination for those sailing around the Caribbean is the capital Castries. Here, there is the chance to hit the shops in Pointe Seraphine and La Place Carinage or to sample local cuisine while there is also the opportunity to check out a number of historical sites, such as the Basilica of the Immaculate Conception.

There are also a selection of beaches within easy reach for those who want to take things easy; including Pigeon Island, Marigot Bay and Reduit Beach.

Further north, the increasingly popular resort of Gros Islet it also worth exploring while for those heading south, the former capital - Soufrière - is the place where you can view the famous volcanic plugs known as the Pitons.

Also nearby are the Sulphur Springs; which is home to a 'drive-in' volcano where travellers can head right to the edge of the crater.

There are also botanical gardens and working plantations in the region around Soufrière while walking trails allow travellers to go off the beaten track to explore the rainforest.

With a sense of its colonial past at every turn, St Lucia is a true Caribbean delight.