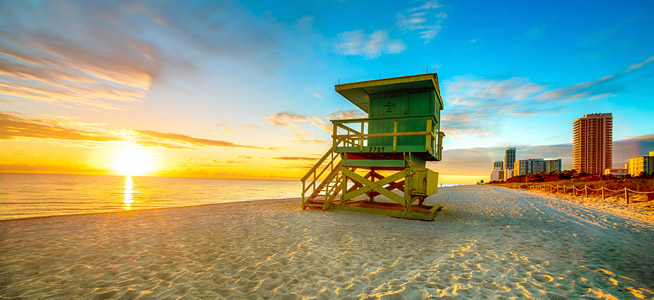 USA Cruises
A Caribbean cruise isn't just about the islands, with the possibility of visiting a series of cities on the American mainland during your time at sea.

Alongside the Keys, there is the chance to explore some of the top destinations in Florida, with the likes of Miami, Fort Lauderdale and Tampa featuring on a number of itineraries run by the major cruise lines.

One of the main cities in the 'Sunshine State', Miami is packed with cultural treats for those who want to check out its many museums, while there is also the impressive Miami Beach for those who want to relax and take things easy.

With ample opportunity to 'shop till you drop' and to dine in impressive restaurants in a city famed for its diversity, Miami is a thriving location just waiting to be explored.

Away from Miami, nearby Fort Lauderdale is worth a visit for its own beach and for the chance to board a water taxi to travel through the many miles of canals that have helped it earn the name 'Venice of America'.

Miami also acts as the gateway to the impressive Everglades; the vast tropical wetlands that make up one of the USA's most famous National Parks.

The busy port of Tampa, featuring its own stunning beaches and top class shopping, is another popular destination for liners on a Caribbean cruise. Here, you can pay a visit to Busch Gardens, check out the impressive aquarium or take a boat trip into the Bay itself to seek out dolphins.

Add into the mix cruises that head out of the colourful city of New Orleans in Louisiana, famed for its French quarter, jazz music and festivals, and it's clear to see that a USA cruise has a major part to play in any trip around the Caribbean.