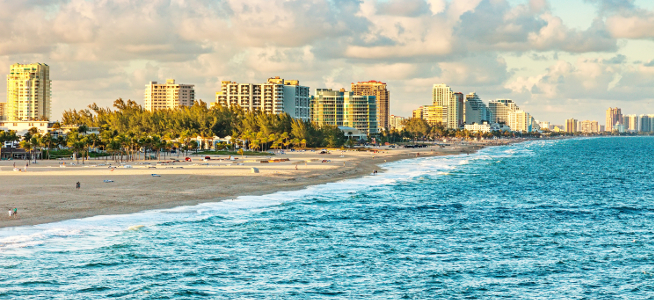 Fort Lauderdale Cruise
Located in the heart of Florida, Fort Lauderdale has long been a popular location for tourists looking to enjoy some sun – and is also a prime destination for those sampling the delights of America by sea.

Nearby Port Everglades is one of the busiest in the USA, with millions of people passing through every year, with Fort Lauderdale therefore being heavily influenced by the tourist trade.

A large number of restaurants and bars can be found within the city, which has developed into a family friendly destination having once been famed as the go-to place for students seeking to party during spring break.

Now, the impressive white sandy beaches of Fort Lauderdale Beach and the trendy downtown district around Las Olas Boulevard are filled with visitors seeking to make the most of the favourable weather and to make the most of the delights that await in the surrounding area.

Arguably the most popular of those is the world famous Florida Everglades, where travellers can head out onto the swamps on a airboat to marvel at the endangered wildlife and to take in the dramatic landscapes.

Water plays a major part in city life as well, with a network of canals giving Fort Lauderdale the name of the 'Venice of America'.

In total, more than 300 miles of waterways criss-cross the city, with the chance to take a tour that will pass multi-million dollar estates – giving an alternative view of the city.

As with most of the major American cities, Fort Lauderdale also offers expansive retail opportunities, with the huge Sawgrass Mills retail centre being home to more than 350 stores – including many that can't be found anywhere else in Florida.