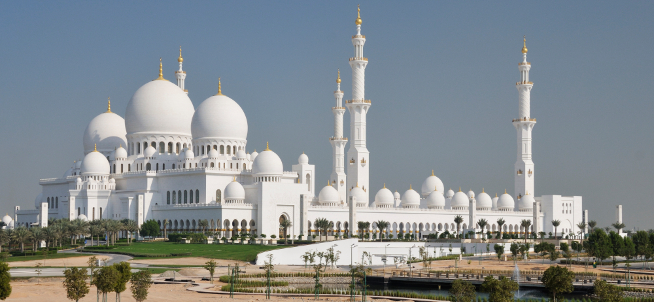 Abu Dhabi Cruise
The capital of the United Arab Emirates, Abu Dhabi is famed for being one of the richest cities in the world and is located on a small island that juts out into the Persian Gulf.

One of the main highlights for those on a cruise around Abu Dhabi is the Corniche, a sweeping boulevard that runs along the western side of the island.

Along the Corniche, there is the opportunity to visit the shops, cafes and restaurants that are to be found along the water front, or to hit the beach in some of the safest beaches in the region.

The nearby Heritage Village provides an opportunity to take a step back in time to uncover more about a traditional desert lifestyle.

Without doubt, one of the top destinations for those who want to take in some of Abu Dhabi's history and culture is the impressive Sheikh Zayed Grand Mosque; one of the largest mosques in the world capable of hosting some 40,000 people for worship.

As well as the many sights to be seen around Abu Dhabi, such as the Emirates Palace, Capital Gate and the Qasr al Hosn, a cruise to Abu Dhabi provides the chance to explore the wider region around the city.

The Al Jahili Fort in Al Ain is one of the most historic landmarks to be found anywhere in the UAE and dates back to the 19th century, while the Palace Museum - the former home of the late UAE founder, Sheikh Zayed Bin Sultan Al Nahyan – can also be found in the city.

Abu Dhabi is a popular choice for lovers of watersports, with everything from diving to kayaking being offered, while Abu Dhabi is also home to a selection of championship quality golf clubs.

For anyone with a love of motorsport, a visit to the Ferrari World Theme Park – located at the Yas Marina circuit used for the Abu Dhabi Grand Prix – is a must.