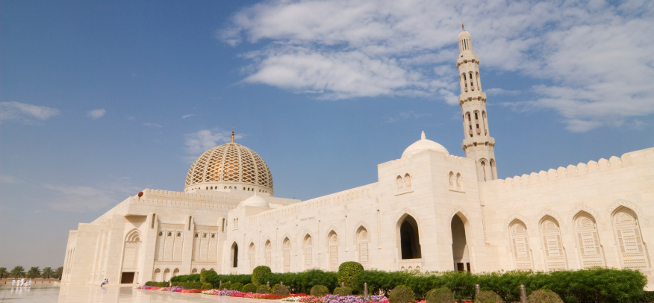 Oman Cruise
Located to the south west of the Arabian Peninsula, Oman is one of the seven states that make up the United Arab Emirates, although it isn't known for being as oil-rich as many of its neighbours.

Despite that, it remains a popular destination for those on a cruise around the Middle East, with plenty to offer foreign visitors who are travelling by sea.

The capital city Muscat is the major trading port in the Emirate and also the main port of call for the large cruise ships that sail around the region.

The walled city is one filled with character and historic buildings, the most famous of which is the Sultan Qaboos Grand Mosque; one of the largest to be found anywhere in the world.

A number of other mosques are worth a visit while in the city, although not all are open to non-Muslim visitors.

The Museum of Omani Heritage and the National Museum of Oman are amongst the other attractions for those who want to explore the history and culture of both the city and the country as a whole, with the Muscat Gate Museum also worth a visit.

Although closed to the public, you can spend time marvelling at the impressive facade of the Al Alam Palace, home to ruling Sultan Qaboos bin Said before heading to Muscat's numerous Souks where a selection of goods can be found on sale.

Away from the capital, Oman's second city Salalah is an experience not to be missed.

A city famed for its frankincense and known as the 'perfume capital' as a result, Salalah has plenty to explore including the ancient settlement of Sumhuram – which is located on Oman's Frankincense Trail.