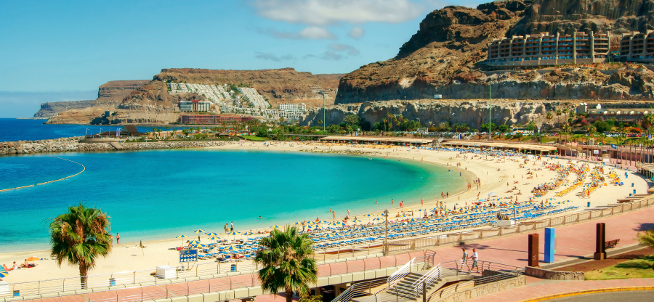 Gran Canaria Cruises
Soft sand beaches are one of the main attractions for those who want to visit Gran Canaria, one of the largest and most popular destinations in the Canary Islands.

The main port of call for those on a cruise around Gran Canaria is the island capital Las Palmas, which is home to a number of cultural sites, including the Cathedral of Santa Ana and the Casa-Museo de Coló.

Both are seen as prime examples of Canarian architecture, with the latter also giving an insight in the history of the Canary Islands.

A walk along palm-lined streets opens up the chance to hit the shops or to sample the delights of Las Palmas' bars and restaurants, while the warm and balmy climate has resulted in the city being home to some of the most impressive gardens to be found anywhere in the Canary Islands.

These include the Jardín Botánico Canario Viera y Clavijo, which is located just outside the city.

Providing ideal opportunity to relax and enjoy the sun, Las Palmas is also home to no fewer than four top class beaches, with Playa de las Canteras being the most popular.

Further opportunities to make the most of the beach and bars comes at the resort of Playa del Ingles down the coast, while nearby Maspalomas is also worth investigating for its impressive sand dunes.

For those who prefer to spend their time exploring the more traditional side of Canarian life, a visit to the small town of Teror or the fishing village of Puerto de Mogán are a must.