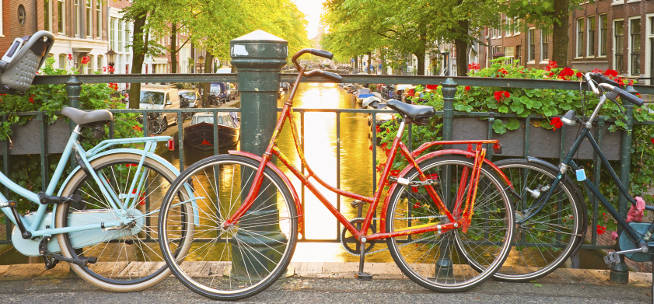 Holland Cruises
A cruise around Holland is a major part of any European voyage, with the chance to spend time on Dutch soil being one not to miss.

The vibrant capital city of Amsterdam is one of the most popular in Europe and easily accessible to the major cruise lines that are sailing in the region – giving travellers the chance to head into the heart of the city.

The tree-lined canals that criss-cross Amsterdam provide a picturesque backdrop in which to explore the delights of the city, which is packed with historical and cultural highlights.

Art lovers will welcome the chance to marvel at the works of Rembrandt in the Rijksmuseum or Van Gogh in the museum that shares his name, while there can be few more poignant locations to visit than the house where Anne Frank wrote her famous diary while hiding from the Nazis in World War II.

Take a stroll through the city streets or ride along the canals to admire the impressive waterside canal houses, as well as the many bridges – numbering more than 1,000 – that link the city together.

While in Amsterdam, travellers can enjoy a range of cuisine from quick snacks to Michelin-star quality delights, while vibrant nightlife will ensure entertainment is never far away.

Alongside the capital, Rotterdam is another popular Dutch destination, and is home to a number of museums and impressive architecture – such as the innovative Cube Houses and the Euromast observation tower.

Fine art, impressive shopping opportunities and a range of different culinary treats in the various districts of the city ensure that Rotterdam is a city that should feature highly on the list for those enjoying a Holland cruise.

Travellers who head out of the city can also pay a visit to the nearby windmills at Kinderdijk, which are one of Holland's most well-known tourist attractions.