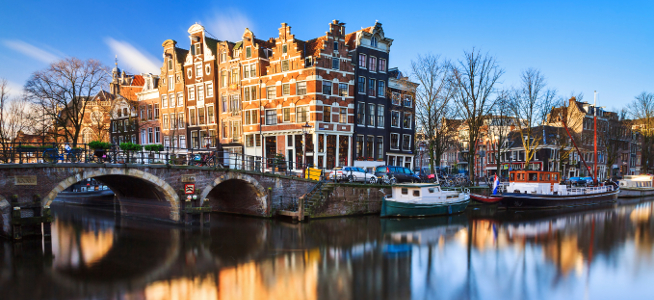 Amsterdam Cruises
The capital of the Netherlands, Amsterdam is regarded as one of the most popular cities within Europe and is well served by the cruise industry.

Like many of the major European cities, the options are almost endless when it comes to things to do, with Amsterdam being home to a wide array of attractions.

The most famous is arguably the network of canals that criss-cross the city, and which hold a place on the UNESCO World Heritage List.

A cruise along the canals will provide the chance to take in the many sights of the city; ranging from elegant houses to historic churches and hundreds of stylishly designed bridges which link the different parts of the city together.

Lovers of history and the arts will be somewhat spoilt for choice thanks to a huge selection of museums and galleries. Amongst the most popular are the Rijksmuseum (the national museum of the Netherlands) as well as specialist buildings dedicated to the works of both Van Gogh and Rembrant.

No trip to Amsterdam would be complete without also visiting the Anne Frank House; the former home of the diarist who hit from the Nazis with her family during World War II.

Also worthy of further exploration are Oude Kerk, the oldest church in Amsterdam dating back to the early 14th century, the Royal Palace and Natura Artis Magistra – the oldest zoo in the Netherlands.

With a wide ranging selection of restaurants and bars and a huge array of shopping options – including numerous open air markets – you'll be spoilt for choice during your time ashore.