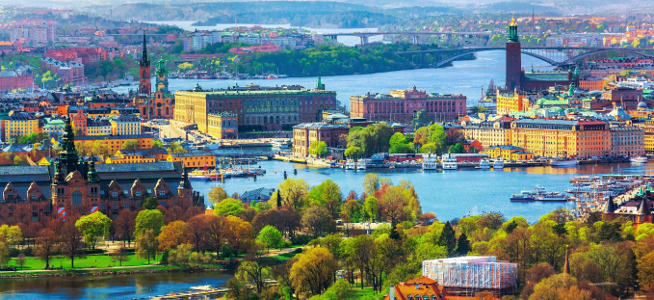 Cruises from Stockholm
The capital of Sweden, Stockholm is spread across 14 islands in the south east of the country and is one of the most popular cruise destinations in the Scandinavia region.

The cultural centre of the country, Stockholm is packed with attractions at every turn; giving the city widespread appeal to visitors with differing tastes.

One of the most popular parts of the city for those heading ashore during their cruise around Sweden is the Old Town, or Gamla Stan.

Dating back to the 1200s, the area is packed with impressive medieval buildings, including some of the most famous to be found anywhere in the city. Chief amongst them are the imposing Royal Palace, Stockholm Cathedral and the Nobel Museum.

Elsewhere in Stockholm, the City Hall with its iconic tower is a popular tourist attraction and can be explored on a guided tour whilst you can also climb the tower to take in views across the city.

That's far from being the only opportunity to do that either, with a special tour offered that takes to the city rooftops and the opportunity to take a ride on SkyView; where a special gondola travels to the top of the Ericsson Globe to provide views from 425 feet above sea level.

Amongst the many other attractions you may wish to consider are the Vasa Museum, comprising of a preserved 17th century ship that has been painstakingly restored, the ABBA Museum for lovers of the famous band and the Skansen Open Air Museum; the oldest museum of its kind in the world.

Whilst some will enjoy the chance to head ashore, you could also hop into a smaller vessel to embark on a cruise around the islands of Stockholm to gain an alternative view of the city.