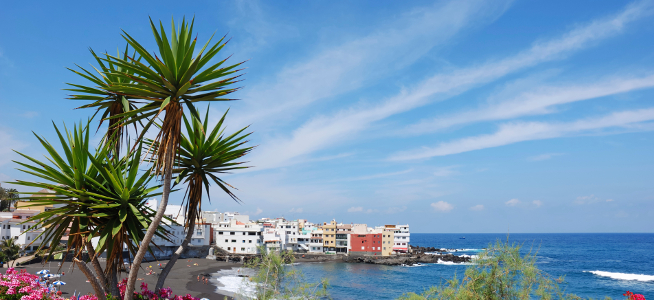 Tenerife Cruises
Located close to the African coast, Tenerife is the largest island in the Canaries and has long been a popular destination for tourists thanks to its impressive climate, busy resorts and stunning beaches.

A Tenerife cruise is the perfect way to explore the island, given that it adds in the opportunity to explore the many other delights that can be found around the Canaries.

Having docked in the port of Santa Cruz, there will be opportunity to explore the sights around the island capital, including a range of museums, the main square of Plaza de España with its artificial lake and the beach at nearby Playa de Las Teresitas.

There is also ample opportunity to head further afield to explore the volcanic island, which is dominated by Mount Teide; at more than 12,100 feet the highest point in Spain.

Mount Teide is located within the Las Canadas National Park, where there is plenty of opportunity to examine the unique landscape of the island, while the intriguing Pyramids of Güímar give an insight into Tenerife's history.

The city of San Cristóbal de La Laguna is also worth a visit, with the historical centre of the former capital having been designated as a UNESCO World Heritage Site. An impressive cathedral is amongst the highlights.

If you really want to step back in time, then a trip to La Orotava will provide the chance to look into Tenerife's culture amongst some of the most architecturally impressive buildings to be found anywhere on the island.

Those who want to hit the shops or sit back with a drink in one of the Tenerife's premier bars will enjoy spending time in the bustling resort of Puerto de la Cruz, where you can also pay a visit to the Loro Parque to see dolphins and orcas, as well as a huge collection of parrots.

Botanical gardens provide further opportunity to get closer to nature, while you can also spend time relaxing on palm lined beaches if you prefer to take things easy.