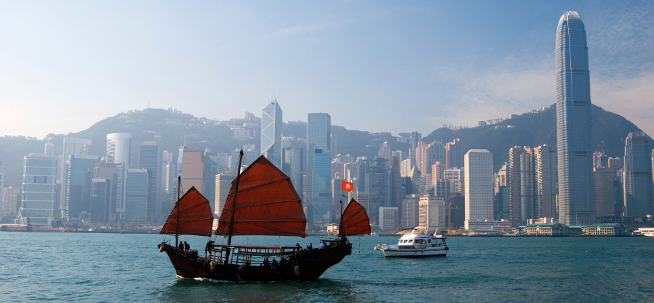 Hong Kong Cruise
While best known for being one of Asia's most vibrant commercial centres, Hong Kong is also a popular destination for those on a cruise around the Far East.

One of the most densely populated regions in the world, Hong Kong and is a bustling and busy stopping point for those touring the region, with plenty to see and do.

One of the best ways to see the city is to embark on a cruise around the harbour which will provide the opportunity to see the many sights that line the waterfront, with the urban landscape that awaits being one of the iconic views of Hong Kong.

Once on land, a trip by tram to the top of Victoria Peak will allow travellers to marvel at the dramatic sight of the city below, as well as the surrounding islands.

As well as the opportunity to pay visit to the famous Stanley and Temple Street markets and to hit the shops, Hong Kong is home to a number of number of museums and temples; which include the Ten Thousand Buddha Monastery.

Those who want to gain an insight into Hong Kong's colonial heritage will enjoy a visit to the famous Clock Tower, which dates back to the Age of Steam, while lovers of theme parks will enjoy a visit to Hong Kong Disneyland or Ocean Park Hong Kong.

Away from Hong Kong itself, the popular Po Lin Monastery can be found nearby on Lantau Island; where you can also take a ride on the Ngong Ping cable car.

Without doubt, a Hong Kong cruise is one where you'll never be short of something to do.