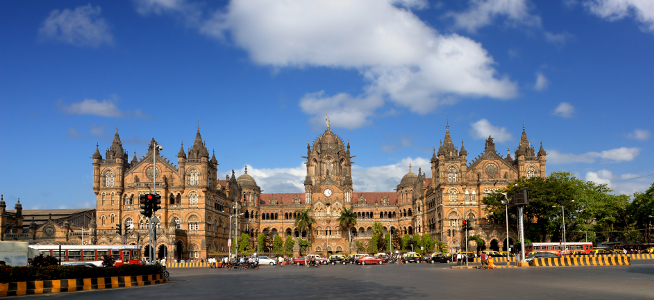 Cruises from Mumbai
As the largest city in India, it should come as little surprise that Mumbai is packed full of sites that are of interest to tourists, including those who are visiting the city as part of their cruise around the Far East and Asia.

The first of those attractions can be seen before you even set foot on land, with the Gateway of India being located along the waterfront looking out over the Arabian Sea.

Built to commemorate the visit of King George V and Queen Mary in 1911, the monument is now one of the most recognisable in the city and is a popular gathering spot for locals.

With religion having a large part to play in Indian life, you'll have the opportunity to visit a wide selection of temples and churches during your time in the city; representing a varied selection of different faiths.

Amongst these are one of India's most important Jain temples, the Shree Siddhivinayak Ganapati Mandir Hindu temple, the Haji Ali Dargah mosque and the Roman Catholic Basilica of Our Lady of the Mount.

Ancient history can be explored at the Chhatrapatī Shivaji Mahārāj Vastu Saṅgrahālay, previously known as the Prince of Wales Museum, whilst those with an interest in Ghandi will welcome the chance to pay a visit to Mani Bhavan.

Nearby Elephanta Island in Mumbai Harbour is home to the World Heritage listed Elephanta Caves, a network of sculpted caves which are believed to date back as far as the 5th century, whilst there are countless historic forts to be found within the city limits.

Visitors to Mumbai should also pay a visit to the Chhatrapati Shivaji Terminus – the World Heritage listed railway station that acts as the gateway to wider India.