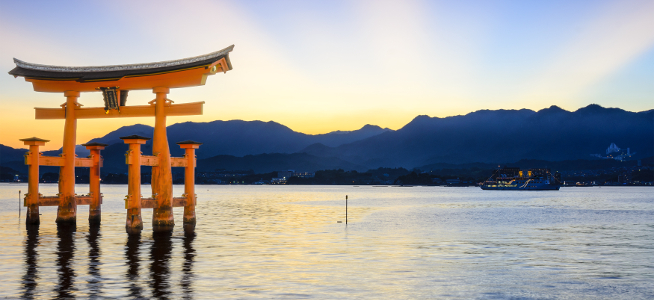 Japan Cruise
Located in the Pacific Ocean off the coast of mainland Asia, Japan is a fascinating nation that is packed with things to see and do.

If anything, the huge number of destinations visited by modern day ships means that you'll be spoilt for choice when it comes to a cruise around Japan.

Amongst the many cities that feature on a Japan cruise is the capital city Tokyo, which is sure to provide an experience like no other.

The bustling metropolis is known for its bright lights and busy streets, with amazing dining and shopping opportunities available throughout.

Those who want to explore the history of the city can do so with a visit to any number of temples and museums, with the park around the Imperial Palace also well worth a visit.

For some however, a trip to Tokyo is simply about spending time wandering the city streets and marvelling at the way life goes on in such busy surroundings.

Away from Tokyo, a stop in Osaka is another popular option for those on a cruise, with the Kinkakuji Golden Pavillion and the impressive castle being two of the main attractions, while a trip to Nagasaki includes the opportunity to reflect on the atomic bombing from World War II at the Peace Memorial Park and the Atomic Bomb museum.

Amongst the other delights available on a cruise around Japan is the chance to visit Mount Fuji, to board a cable car for a trip up Mount Hakodate, to sample excellent Sake and to taste the best in sushi.

Without doubt, a visit to Japan will be a highlight of any trip to the Far East and Asia.
---