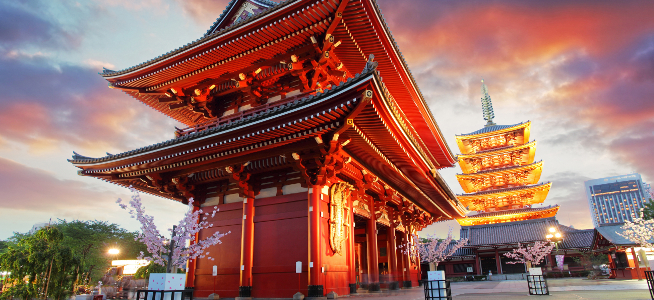 Cruises from Tokyo
Without doubt, Tokyo is one of the most astonishing destinations that can be visited anywhere in the world.

The Japanese capital is a hugely popular option for those on a cruise around the Far East – being accessible both from its own port, and also from nearby Yokohama.

Amongst the older historic attractions is the Senso-Ji temple, which dates back to around 650AD. The most visited temple in the city, Senso-Ji is also regarded as one of the most important to followers of the Buddhist faith and is the temple to be found across Tokyo.

The Meiji Shrine, dedicated to the first emperor of Japan and located in the heart of the city amidst an expansive evergreen forest that creates something of a peaceful haven amidst the hustle and bustle of every day modern Tokyo.

The Imperial Palace, the National Museum and the Edo-Tokyo Museum are amongst the other historical attractions to be found during your time in the capital whilst a visit to the Ryōgoku district is recommended to see a traditional Japanese sumo bout.

Also worth a visit is the Tsukiji Fish Market; the largest seafood market to be found in the world. Here, you can sample some of the freshest sushi on the market.

Amongst the more modern attractions within Tokyo are the neighbourhood of Ginza with its high-end shops and restaurants, the famous Shibuya Crossing and the Tokyo Tower.

The tower, one of the tallest structures in Japan, features two observation decks that provide stunning views across the city whilst on a clear day, it's possible to see as far as the snow-topped peaks of Mount Fuji.

In fact, those who elect to include Tokyo as part of their cruise around Japan could head away from the city to spend a day exploring the highest peak in the country.