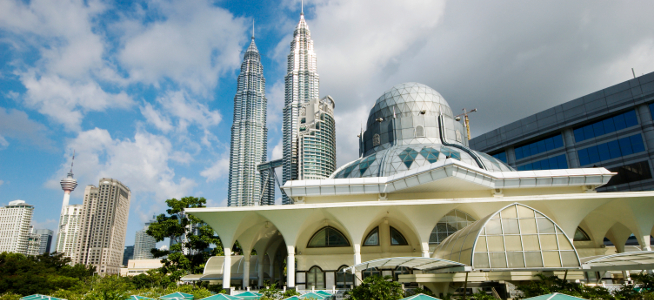 Malaysia Cruise
No matter whether you prefer to spend time in the big cities, or would prefer to head off the beaten track to explore the countryside, Malaysia is very much a country that caters for all.

Already a firm favourite with those visiting the Far East, the opportunity to sample the best that the country has to offer is a major selling point of a cruise around Malaysia, with the capital Kuala Lumpur being one of the top destinations.

Accessible from the port at Kelang, Kuala Lumpur is home to a diverse population and features a range of historical sites that sit side-by-side with modern buildings that reflect the cities position as the commercial and financial heart of Malaysia.

Amongst the highlights of a visit to the city is the chance to visit sites like the Jamek Mosque, Merdeka Square and the National Museum, while a trip to the famous Petronas Towers or the Kuala Lumpur Tower allow travellers to take in astonishing views across the city.

Not far from the city, travellers can pay a visit to the Batu Caves to explore one of the most famous Hindu shrines to be found outside India.

Away from Kuala Lumpur, a Malaysia cruise could also include a visit to the island of Penang, where you can explore the delights of George Town, or a stop off in Kota Kinabalu where there is the chance to explore the Sabah Museum and State Mosque before heading for the impressive Mount Kinabalu Park.

Add the chance to explore the jungle waterfalls and natural beauty of the area around Langkawi and you'll see why Malaysia is a destination that won't disappoint.
---