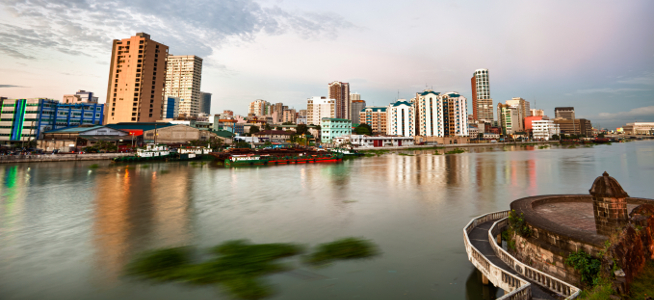 Philippines Cruise
Located in South East Asia, the islands of the Philippines are one of the most popular destinations for those travelling to the Far East.

Stunning landscapes are a major draw for those who pay a visit to the Philippines, with the islands being home to some of the top beaches; most notably those around Boracay.

Embarking on a cruise around the Philippines will provide the chance to check out the bustling capital city of Manila.

The gateway to the rest of the Philippines, Manila is home to numerous attractions that will allow travellers to explore the history of the country.

A former jewel of the Spanish empire, there is plenty of European influence in the historic buildings to be found across the city; most notably within the fortified settlement of Intramuros.

Founded by the Spanish, the settlement is home to some of Manila's oldest structures, such as the San Agustin Church and Fort Santiago.

As well as numerous museums, Manila is also home to a zoo and botanical gardens and a popular seaside promenade where there is the chance to sample local specialities in a selection of bars and cafes.

Add into the mix the vibrant night life and the opportunity to enjoy the travel around the city in a former US Army Jeep – known as a jeepney – and it's easy to see why the Philippines is a popular calling point on any Asian cruise.
---