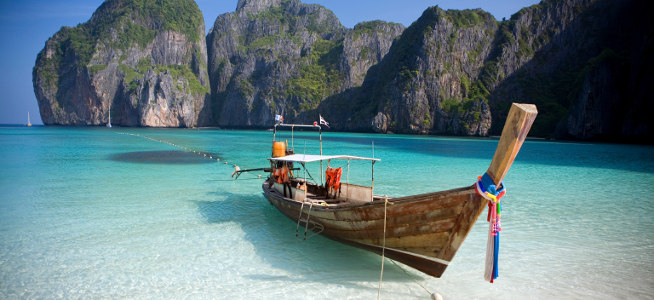 Thailand Cruise
One of the most popular destinations for tourists seeking to explore the Far East, Thailand is also a well visited country for those who are enjoying a cruise around Asia.

The undoubted highlight of a Thailand cruise comes with a trip to the capital Bangkok, which is amongst the most visited cities anywhere in the world.

Accessible via the port of Laem Chabang, Bangkok is famed for its rich and varied culture and heritage, which can be seen in the many impressive buildings to be found across the city.

Arguably the most famous is the Grand Palace on the banks of the Chao Phraya River, with the Wat Pro and Wat Phra Kaeo amongst the various temples located within the city. The huge teak Vimanmek Mansion is also a popular stopping point for foreign visitors.

There is ample chance to pick up souvenirs from Bangkok's many street vendors or from an extensive range of shops, while travellers can gain a different view of the capital by cruising along the network of canals that are to be found across the city.

Sampling the best in Thai cuisine is another experience not to be missed.

Away from Bangkok, those on a cruise around Thailand can spend time exploring the stunning islands of Phuket and Ko Samui.

Both are known for their impressive beaches and provide the chance to embark on one of the most unique Thai experiences with a trek on the back of a elephant.

Phuket is also the perfect location for those who want to go diving and admire the marine life, while the huge Buddha at Wat Phrayai on Fan Island is a highlight of a trip to Ko Samui.

No matter where you end up, Thailand is a nation that is sure to deliver.
---