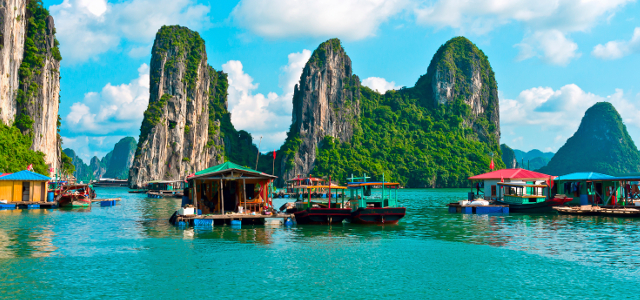 Vietnam Cruise
A nation packed with heritage and history, Vietnam has become a popular destination for those on a holiday in the Far East.

Ancient palaces, stunning temples, impressive beaches and beautiful landscapes await in a country famed for its diverse cultures and its friendly people.

Those embarking on a cruise around Vietnam will enjoy the opportunity to visit some of its top destinations while on their trip.

Chief amongst them is Ho Chi Minh, the bustling metropolis previously known as Saigon. Here, there is the chance to take a walk through the bustling street markets before exploring some of the sites that help tell the story of the famous city.

You can marvel at the delights of the Notre Dame Cathedral visit a local family in their home and take a trip to Independence Palace - the place where the Vietnam War ended with the fall of Saigon.

Heading outside the city, there is the chance to marvel at the floating markets of the Mekong Delta or to explore the Cu Chi Tunnels, where rebel fighters hid underground during the war.

Further north, the capital city Hanoi can be accessed from the stunning surroundings of Halong Bay.

While in the city you can visit a number of museums to explore the history of the country, including the National Museum of Vietnamese History and the ex-gatehouse at the Hỏa Lò Prison; referred to as the Hanoi Hilton by the American prisoners of war who were kept there.

Ranked as one of the top destinations in the world, Hanoi also provides ample opportunity to hit the shops or to be entertained at one of the many bars or theatres.

Add into the mix the historic cities of Da Nang and Hue and it soon becomes clear why the chance to take a Vietnam cruise is one that shouldn't be missed.
---