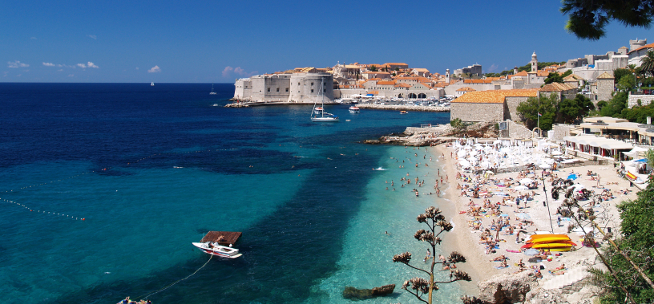 Dubrovnik Cruises
Located to the south of Croatia on the Adriatic coast, Dubrovnik is a city steeped in culture and history that can embraced from the moment its famous city walls come into view.

Those lucky enough to include Dubrovnik on their Mediterranean cruise are likely to disembark at the main terminal in the suburb of Gruz, located a short ride away from the heart of the city itself.

Depending on who you are cruising with, there is the possibility that smaller ships could dock in the harbour of Dubrovnik's Old Town, while others may offer a tender service to the same point of arrival.

It's the Old Town that will be the main attraction for visitors, being packed with so much history that it's been granted a place on the UNESCO World Heritage List as a 'remarkably well-preserved example of a late-medieval walled city'.

The chance to take a stroll along those walls is without doubt one of the highlights of any trip to Dubrovnik, providing the chance to gaze out across the rooftops of the ancient city.

Within the city walls, you'll be able to embrace the history of the region with ancient buildings such as the Cathedral of the Assumption and the Rector's Palace, while there is huge appeal in being able to stroll unhindered through the vehicle-free cobbled streets to explore the shops, restaurants and bars.

For unparalleled views of the city, both old and new, a ride on the cable car that travels to the top of Mount Srd is a must, while there are a number of beaches on which to sit back, relax and take in your surroundings.