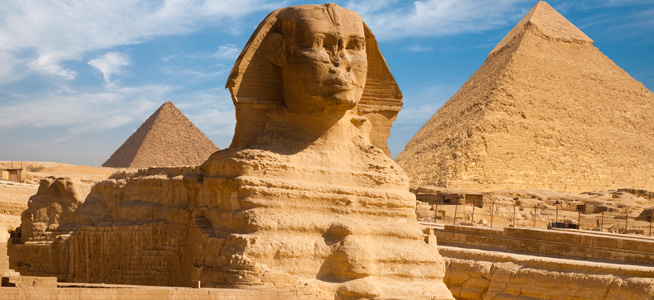 Egypt Cruises
A holiday at sea around the Mediterranean is about more than simply exploring Europe, with the opportunity to also pay a visit to the northern coast of Africa.

An Egypt cruise is one of the most popular options for those who want to expand their break beyond Europe, with the country being home to some of the most famous landmarks to be found anywhere in the world.

Alexandria is Egypt's main port on the Mediterranean coast, and is worth further exploration itself, with a busy modern metropolis that includes the stunning Royal Library and Alexandria Opera House, sitting alongside the ruins of the ancient city.

Heading inland, one of the most popular destinations is to the Great Pyramid of Giza; the oldest of the Seven Wonders of the World. Dating back thousands of years, the Great Pyramid took more than 20 years to build and is the largest of the three pyramids to make up the Giza complex. The Great Sphinx of Giza, the largest statue of its kind in the world, can also be found nearby.

Ancient history fans will also enjoy the chance to visit the Valley of the Kings near Luxor to examine the tombs that were constructed for Egyptian Pharaohs thousands of years ago.

Luxor itself is a popular tourist location, partly because of its close proximity to the Valley of the Kings, while Cairo is a city packed with a huge array of historical and cultural treats that are waiting to be discovered.

Schedules and itineraries permitting, a cruise around Egypt could include the chance to enjoy a journey along the Nile, which winds its way across the country en-route to the sea.