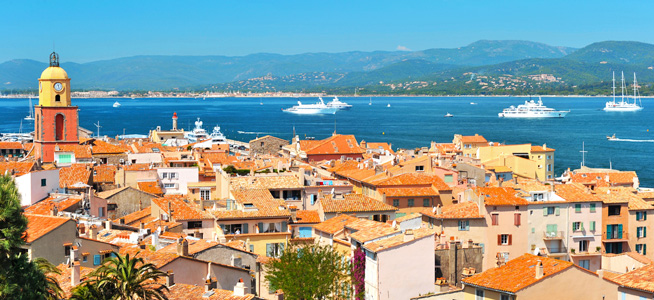 France Cruises
As the most visited country in the world, there is little surprise that France plays a key part in most cruises around the Mediterranean.

Packed with glamorous locations, the Côte d'Azur is famed for its stunning coastline and warm Mediterranean climate; which make it a premier destination for foreign travellers throughout the year.

Nice is one of the most popular cities for visitors to France, with the opportunity to take a stroll along the impressive promenade or to head into the Old Town to see how the city was in years gone by.

Alongside a stunning Russian cathedral, there are plenty of cultural and historical sites to explore, while just down the coast, travellers can follow in the footsteps of the famous names who have walked on the red carpet at the famous Cannes film festival.

One of the most famous resorts in the whole of the Mediterranean, St Tropez is the place to go to experience the French Riviera's nightlife, or to simply sample impressive cuisine and to visit upmarket boutiques, while Marseille is filled with culture and packed with historical sites that reflect its importance as a key trading port in years gone by.

It isn't just the mainland that should be explored however, with the island of Corsica more than worth a visit. Stroll through the narrow streets and alleys of Bastia's old town or explore the delights of Ajaccio; the coastal town best known as the birthplace of Napoléon Bonaparte.