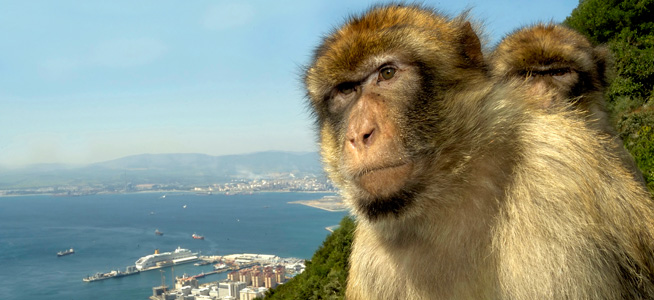 Gibraltar Cruises
Providing a small slice of home for British holidaymakers on a break in the Mediterranean, Gibraltar remains one of the most popular destinations for the large cruise liners that travel in the region.

Located on the Southern tip of the Iberian Peninsula, Gibraltar is the smallest of Britain's overseas territories but has plenty to offer tourists, many of whom will enjoy the home-from-home experience.

The major attraction is the Rock of Gibraltar; the giant limestone mound which dominates the landscape. Visitors can take a trip to the top of the Rock via cable car, with the opportunity to meet Gibraltar's most famous residents; the Barbary macaques.

The only wild monkey population in Europe, Gibraltar's apes have become used to interaction with humans and will often approach tourists; providing the opportunity to capture a unique photo to remember your visit.

While at the top of the Rock, there is the chance to take in views that stretch over to Spain and the Costa del Sol in one direction and across the Strait of Gibraltar to Morocco and North Africa in the other, while the Great Siege Tunnels are also worth a visit to see the network that exists under the rock having been created to help defend Gibraltar in the 18th century.

Other highlights of a cruise around Gibraltar include the Moorish Castle and the Gibraltar Museum, which provide an insight into the historical background of the territory, while Catalan Bay, away from the main city, is the best place to relax on a sandy beach and take things easy.

With a range of duty free shopping – including many high street names – and top quality fine cuisine to be found throughout, a Gibraltar cruise is one that packs a real punch.