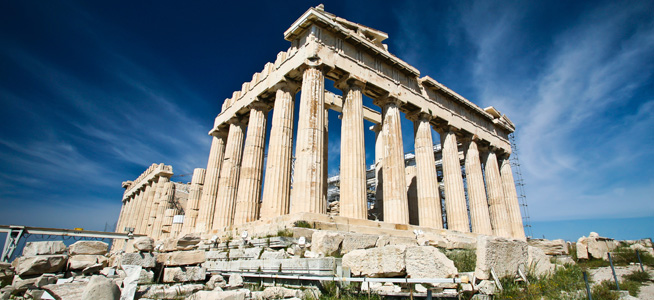 Greece Cruises
Located in south-eastern Europe, Greece is famed for its ancient historical sites and is a popular destination for many Mediterranean cruises.

The opportunity to look back at ancient civilisation is only part of the appeal however, with the delights of the modern-day country and its many islands - such as Crete and Corfu – also ripe for exploration.

One of the main attractions is Athens, the ancient capital that is one of the oldest cities to be found anywhere in the world.

Athens is arguably the best example of everything Greece has to offer, with a raft of archaeological delights including the Acropolis, being a major draw alongside a number of museums that help to tell the story of the country.

Alongside the ancient city, there is the opportunity to also explore the modern face of a city that is one of the most vibrant in the Mediterranean region.

Away from Athens, the site of the first Olympic Games in Olympia is one to behold and is to be found close to the town of Katakolon, with its waterfront shops and cafes.

While many of the main tourist sites are to be found on the mainland, a cruise around Greece wouldn't be complete without exploring its islands; including the stunning surroundings of Santorini, the lush landscapes of Corfu and the bustling oasis of Mykanos.

With ancient history, quiet sandy beaches, vibrant nightlife, top class cuisine and international shopping, Greece is very much a Mediterranean destination that ticks every box.