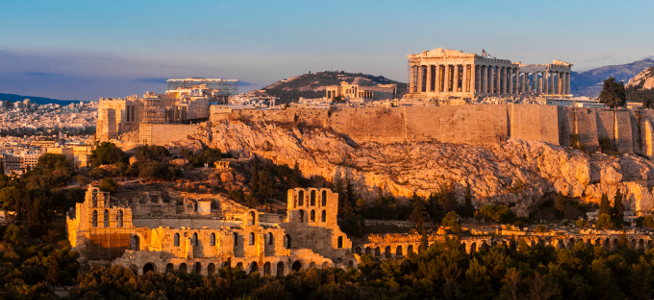 Athens Cruises
As well as being the capital of Greece, Athens is one of the most historic cities anywhere in the world, dating back thousands of years.

Those who are visiting Athens as part of their cruise around the Mediterranean will dock in the nearby port of Piraeus, which offers easy access to the delights of the city.

The rich history of Athens is reflected in some of its most popular attractions; which are amongst the most famous anywhere in the world.

Arguably the most visited attraction is the Acropolis; the ancient citadel that sits on a rocky outcrop overlooking the modern day city. Although home to a number of ancient buildings, the most well-known is the Parthenon – which is instantly recognisable across the globe.

The Museum of the Acropolis helps to tell some of the history of the ancient citadel, and it worth a visit to complement your time exploring the ancient ruins.

Amongst other the other historic sites that should be visited are the Temple of Zeus, the Daphni Monastery and the Panathenaic Stadium – where the first modern Olympic Games were held back in 1896.

Aside from its archaeological treats, Athens is home to a number of parks that provide the opportunity to take in some fresh air, while there is plenty of reward for those who simply head out to explore the many districts of the city – each of which is unique in its own right.

Amongst the most popular are Plaka, with its shops, markets and cafes, and Kolonaki – best known for its boutique stores and upmarket restaurants.