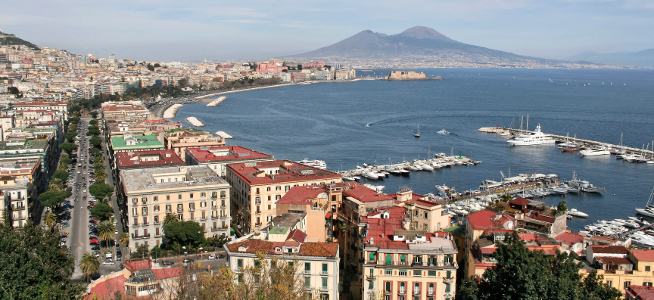 Naples Cruises
One of the oldest cities in the world, Naples is a city rich in history and heritage – making it the perfect destination for those wanting to sample a taste of Italy during their Mediterranean cruise break.

Thanks in no small part to its long history, Naples is packed with a wide array of impressive buildings that showcase a range of architectural styles from across the ages – including buildings that date back as far as Medieval times.

Indeed, such is the beauty of the city as a whole that the historic centre was designated as a UNESCO World Heritage Site in the 1990s.

Amongst the sites that are worthy of exploration are the Church of Santa Chiara and the Castel Nuovo; the latter being one of the most famous landmarks in the city.

For a unique experience, visitors to the city can head underground to visit some of the many tunnels that run beneath Naples, including an underground museum. That is one of many such museums that explore the history of the city and the surrounding region, including the National Archaeological Museum.

Here, you can enjoy one of the largest collections of artefacts from Roman Empire, including antiques that were collected from the ruins of both Pompeii and Herculaneum.

The two ancient cities, destroyed by the eruption of Mount Vesuvius, are one of the main attractions for those who want to head outside Naples whilst there is also the opportunity to travel to the peak of the now dormant volcano to take in dramatic views over both Naples and the surrounding area.

The stunning landscapes of the Amalfi Coast are also worthy of further exploration and are easily accessible from the city.