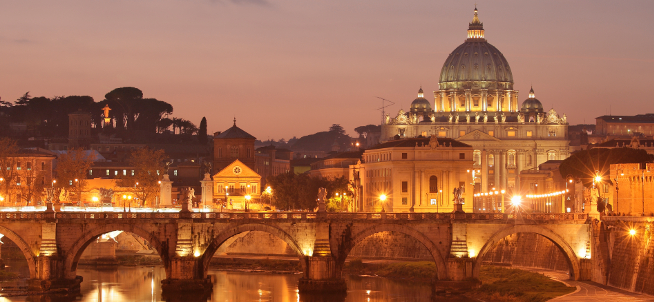 Rome Cruises
Despite the fact it is inland from the Italian coast, Rome remains one of the most popular destinations for those who are enjoying a cruise break around the Mediterranean.

For obvious reasons, the many cruise lines that operate trips to Rome don't actually make it as far as the Italian capital, with ships instead docking in Civitavecchia – around 70-80km away.

Civitavecchia itself will hold only limited appeal for visitors, with most cruise lines operating transfers that will instead carry travellers direct to Rome where they can take in the many sights of the Italian capital.

Regular bus and train services are also available to grant easy access to the city.

Once you arrive in Rome, the options are almost endless when it comes to things to see and do – making forward planning essential to ensure you can see what you want to see whilst in the city.

For many, the opportunity to explore Rome's famous old buildings is something not to be missed, with the Colosseum, the Pantheon, St Peter's Basilica and the Sistine Chapel amongst four of the most well known; the latter two being found within the walls of the Vatican City.

Some of the world's most impressive art can be found within the city, such as the works of Michelangelo that adorn the Sistine Chapel ceiling, whilst Rome is jam packed with museums and galleries covering a range of topics.

The Borghese Gallery and the archealogical remains below Palazzo Valentini are just two that are recommended, with Rome being something of a treat for those with a love of history, culture and the arts.

A walk though the city streets will allow for the opportunity to take in the many stunning fountains that can be found across Rome, such as the Trevi Fountain which is one of the largest in the city and dates back to the 1700s.

Add into the mix Rome's world class dining options and a huge array of bars and cafes and there is little doubt that your time in the city will pass in a flash.