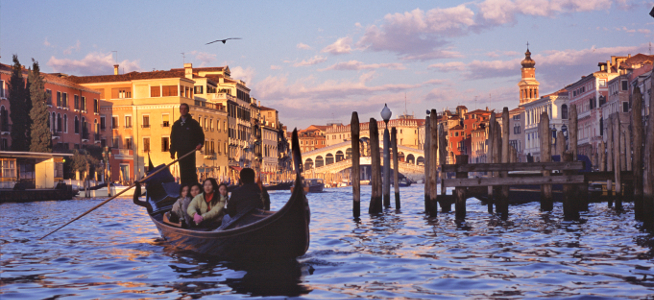 Venice Cruises
Regarded as one of the most beautiful cities in the world, Venice is a popular destination for travellers who want to enjoy the unique experience of a visit to a city surrounded by water.

The maze of narrow cobbled streets and expansive network of canals have helped to make Venice a city famed across the world for its romantic appeal, and those who pay a visit while cruising the Mediterranean are sure to enjoy the opportunity to see first-hand just how stunning the city is.

Without doubt, the most popular way in which to see the city is to board a gondola for a cruise along the waterways. Journeying along the Grand Canal gives the chance to pass by some of Venice's most impressive buildings, which showcase architectural designs from a selection of eras.

As well as taking to the water, visitors to Venice will enjoy a visit to St Mark's Square to check out the impressive Basilica di San Marco, while the nearby Clock Tower and the famous Palazzo Ducale – or Doge's Palace – are both popular attractions.

You can also take in a visit to some of the many famous bridges across the city, such as the Ponte dell'Accademia and the Rialto Bridge; both of which cross the Grand Canal.

It's important to bear in mind that Venice isn't all about the major tourist sites either, with plenty to offer those who prefer to simply set out on foot to walk through the quaint, traffic free, streets.

That will provide you with the chance to seek out the best shops, bars and restaurants that are hidden off the beaten track.