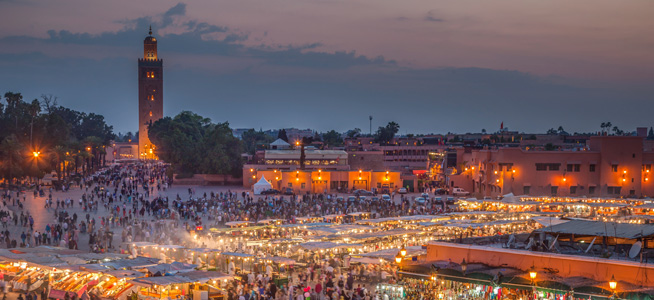 Morocco Cruises
Alongside Egypt, Morocco is another country that provides the opportunity for those embarking on a Mediterranean cruise to sample a small piece of Africa during their time at sea.

With influence from a number of regions around the globe, Morocco features a mix of different cultures and is hugely popular with those who want to explore everything that this gateway to Northern Africa has to offer.

Arguably most popular romantic destination for ships that are embarking on a cruise around Morocco is Casablanca; the city made famous by the film of the same name.

Casablanca has plenty of sights with plenty to see, including the Hassan II Mosque, and is a treat for those who want to explore the markets and bars of Morocco's largest city. Casablanca can also act as a gateway to the magical city of Marrakech; known as the Red City thanks to the extensive use of sandstone in its many impressive buildings.

Elsewhere on a Morocco cruise, the capital city of Rabat is home to the official residence of the King and as such, is packed with historical sites that explore the heritage and culture of the country; including the Mausoleum of Mohammed V and the impressive Hassan Tower.

For those who want to relax, the beaches around Agadir are ideal for taking it easy, especially if you've just spent time exploring the many Souks found within the city in search of a bargain amongst the many traditional Moroccan offerings.

On the north coast, off the Strait of Gibraltar, Tangier is becoming increasingly popular with tourists and features a number of historical old buildings and impressive views back over towards Europe.