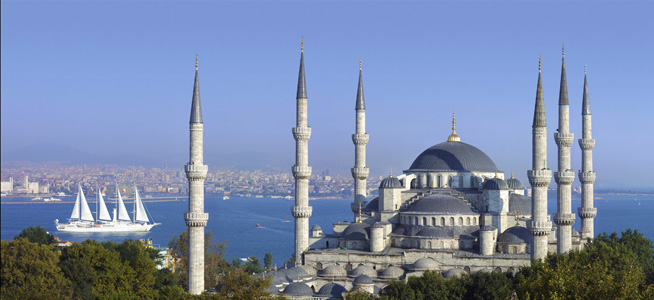 Turkey Cruises
The place where east meets west, quite literally, Turkey has become an increasingly popular destination for foreign visitors in recent years and is visited by many of the major cruise lines as they travel around the Mediterranean.

Sitting astride the Bosphorus River, Turkey's largest city, Istanbul, is now one of the most visited cities in the world and is packed with impressive architecture that dates back to the Byzantine and Ottomon empires.

Istanbul is also full of culture thanks to a myriad of museums and galleries, while its Grand Bazaar is one of the largest markets to be found anywhere in the world and is the perfect place in which to pick up a momento of your trip.

There also the unique opportunity to cross the Bosphorus Bridge and go directly from Europe into Asia in a matter of minutes, with Istanbul crossing onto both continents.

Another popular destination with tourists can be found along the coast in Antalya. Here, travellers can wander through the old quarter of the town and marvel at architecture that reflects a range of different empires and cultures from across time.

Antalya is also home to a range of impressive beaches that are ideal for those who want to relax and enjoy the sun, and also those who want to head into the clear blue waters to partake in a selection of watersports.

Add into the mix the large city of Izmir on the western coast, with its close proximity to the ancient ruins of Ephesus, and it's clear to see why a Turkey cruise is so appealing.