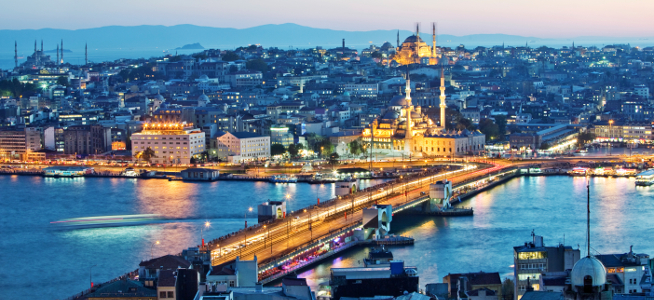 Istanbul Cruises
For a true East meets West experience, there is nowhere that can match the Turkish capital Istanbul; the only city in the world that straddles two continents.

Formed as Byzantium thousands of years ago, Istanbul has had an important part to play in history, and served as the capital city for the Roman Empire; albeit under the Constantinople name.

Those visiting Istanbul while on a cruise holiday will disembark on the European side of the city with the opportunity to then cross into Asia via one of the bridges that cross the Bosphorus Strait.

The sprawling city is packed with things to see and do, with a myriad of museums and galleries amongst the many historic buildings that hark back to some of the great empires in world history.

Amongst some of the most visited attractions are the Sultan Ahmed Mosque (known also as the Blue Mosque because of the tiles that adorn the outside), the Hagia Sophia and the Suleymaniye Mosque.

While all three have religious importance, there is plenty more to see besides, such as the Topkapi Palace; which was the royal residence for the Ottoman Empire for the best part of 400 years.

The palace is at the heart of the Historic Areas of Istanbul; a UNESCO World Heritage Site since 1985 thanks to the quality of the architecture dating back to Ottoman times.

Alongside the ancient buildings and structures across the city, Istanbul is home to one of the world's great markets – the Grand Bazaar – where tourists can take their pick from goods at well over 3,000 shops.

A range of more modern designer stores can also be found within the city, while there are countless opportunities to sample the best in Turkish cuisine at one of Istanbul's many restaurants.