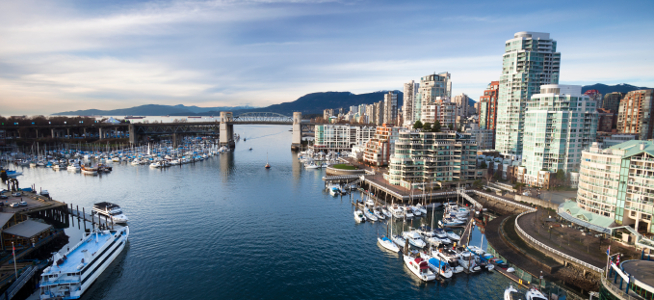 Vancouver Cruises
If you're on a cruise around Canada then a trip to Vancouver is a must, with the third largest city in the country being a popular destination for foreign travellers.

Located in British Colombia on the North Pacific coast, Vancouver is a cosmopolitan city that is waiting to be explored.

Originally founded in the Gold Rush, Vancouver has grown into one of North America's top cities and its scenic location is a major draw.

Amongst the many parks that are to be found within the city limits is Stanley Park, an impressive rainforest of more than 1,000 acres that is packed with wildlife and which is also home to Vancouver's aquarium.

The largest aquarium in Canada houses more than 50,000 animals including beluga whales, sharks and dolphins – providing a unique opportunity to get up close to some of the rarest forms of marine life anywhere in the world.

For nature lovers, a trip to nearby Grouse Mountain is a must, with the chance to take a Skyride up the slopes.

Those who would prefer to spend their time exploring the city will welcome the chance to visit areas like Gastown, the original site from which Vancouver evolved, and the second largest Chinatown anywhere in North America.

Numerous museums are to be found within the city limits while the performing arts play a big part in Vancouver life. In fact, the city and its surrounding region has been used as a filming location for countless TV shows and movies through the years.

As well as taking in some retail therapy and enjoying fine dining throughout the city, travellers would be well advised to pay a visit to the Vancouver Lookout to take in stunning panoramic views of their surroundings.

Without doubt, a Vancouver cruise is one to treasure.