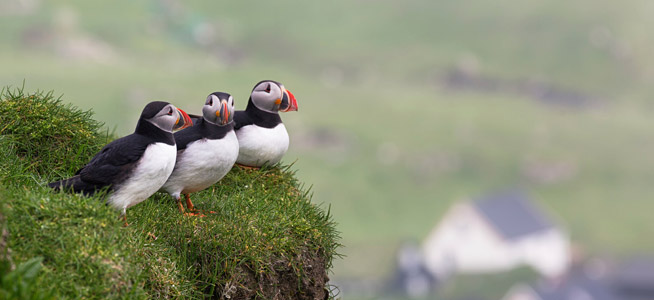 Faroe Islands Cruises
If you want to head off the beaten track to explore one of Europe's hidden gems, then there are few places to match the Faroe Islands; a small archipelago located between the Norwegian Sea and the Atlantic.
One of the smallest countries in the world in population terms, the Faroe Islands is a region where unspoiled beauty is the order of the day.
There are none of the large shopping malls to be found elsewhere and no huge theme parks – instead leaving visitors free to enjoy the stunning natural landscape and to explore the Viking heritage of the islands.
The main destination for cruise ships on a Faroe Islands cruise is the capital city Tórshavn, which is one of the oldest capitals to be found in Europe.
Here, there is the chance to walk through historic government buildings in the Tinganes region of the city and to visit the stunning Nordic House.
A journey to Kirkjubøur on the opposite side of the main island provides the chance to visit the historical ruins of the Magnus Cathedral, while the islands are also a haven for ornithology.
The cliffs at Vestmanna and the islands of Mykines, Skúvoy and Suðuroy are just some of the locations that are perfect for bird-watching, with wide range of species, including the Puffin, being found on the islands.
Those who embark on a cruise around the Faroe Islands can also hope to see one of nature's greatest sights – with the northerly location making the islands a great location from which to admire the Northern Lights.