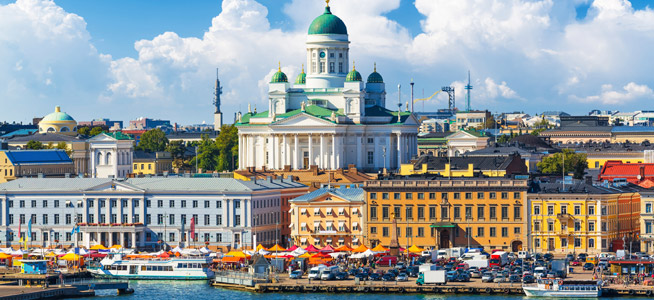 Finland Cruises
One of the most beautiful countries to be found within the Baltic, Finland is a nature lovers dream thanks to its dense forests and many lakes – which number into the thousands.
The main port of call for those on a cruise around Finland is the capital city Helsinki, located in the south of the country.
In stark contrast to the more peaceful countryside for which it is best known, Helsinki is a bustling city packed with impressive architecture and historic buildings – which include the Helsinki Cathedral.
One of the landmarks of the city, the cathedral dates back to the 1850s and is a prominent feature of the skyline.
The National Museum of Finland and its National Theatre are amongst the other attractions that are worth a visit while in the city.
Helsinki is also home to a number of top class restaurants and provides the opportunity to indulge in some retail therapy while for those visiting in the summer months, Hietaniemi Beach is a popular option for those who want to sit back and take things easy – or who want to take a dip in the water on a warm day.
Close to Helsinki, travellers can head out of the capital to marvel at the medieval town of Porvoo along the coast, which dates back to the 14th century.
Away from the coast, a trip inland provides the chance to admire the dramatic landscapes for which the country is best known – showing why a Finland cruise is such an attractive option.