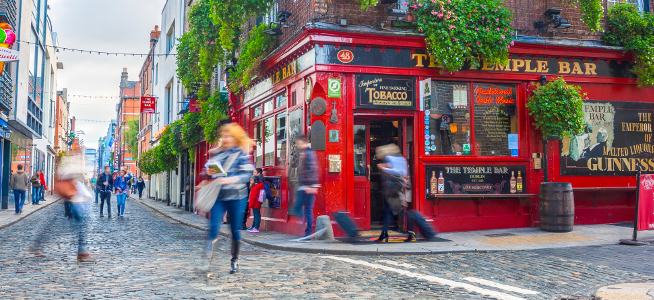 Dublin Cruises
For anyone enjoying a cruise around the coast of Ireland, the highlight of your trip is likely to come on a visit to Dublin; the colourful and hugely popular capital city.

Rich in heritage and cultural, Dublin is packed with things to see and do; ranging from some of Ireland's most famous historical buildings to a museum focused solely on the nation's most famous tipple...

That museum, the Guinness Storehouse, is not only one of the most popular attractions in the city, but also in Ireland as a whole. Opened back in 2000 at St James's Gate – the home of Guinness since it was founded in the 1700s – the Storehose tells the history of the drink and contains an archive that dates right back to 1759. There is also a Guinness-themed restaurant and a bar that overlooks the surrounding city.

If you would prefer to sample your Guinness in more authentic surroundings, there are countless bars across the city, with some of the most popular being found in the Temple Bar area.

For those who want to explore Dublin's history, the options are all but endless, with a variety of walking tours available that will take in the main sites across the city.

Amongst those worthy of a visit are Trinity College, St Patrick's Cathedral, Dublin Castle and Kilmainham Gaol; the latter in particular providing a fascinating insight into Irish history.

Dublin is famed for its open spaces and there are a number of parks in which you can relax and enjoy the open air, including Phoenix Park. One the largest walled city parks in Europe, Phoenix Park covers an area of more than 1,700 acres and is home to Dublin Zoo as well as Áras an Uachtaráin; the official residence of the President of Ireland.