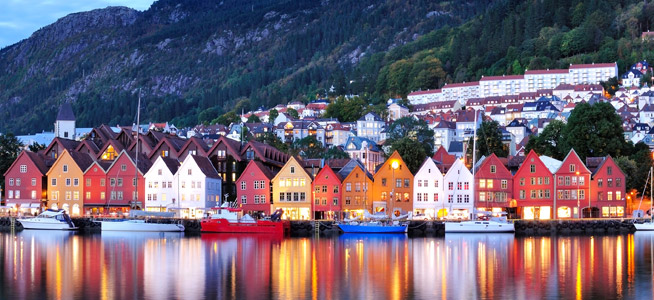 Norway Cruises
When it comes to a cruise break, there are few options that can match the experience of a trip to Norway.
The world famous fjords, created through years of glacial erosion, provide one of the most dramatic backdrops to a cruise break as large cruise liners are able to head 'inland' along the deep, narrow channels of water.
Amongst the many fjords waiting to be explored is Sognefjord, the third longest in the world, the marine-filled Trondheimfjord and Oslofjord which acts as the gateway to the Norwegian capital.
A trip along the Lysefjord also allows travellers to marvel at one of Norway's most visited natural attractions, Preikestolen.
Also known as Preacher's Pulpit, the steep cliff rises more than 1900 feet above the fjord, with a flat top providing astonishing views of the surrounding area for those prepared to hike to the summit.
While the fjords are arguably the major draw for those considering a cruise around Norway, its cities are also more than worth exploring.
The busy capital is famed for its diverse architecture and also for its varied collection of museums and galleries, including the Munch Museum which is home to Edvard Munch's 'The Scream'.
Another popular option is the Viking Ship Museum, which contains three of the most important archaeological artefacts in the country.
Elsewhere, gothic architecture of Trondheim, the old town of Stavenger and the historic wooden buildings to be found in the Bryggen area of Bergen are amongt the real highlights that await on any Norway cruise.