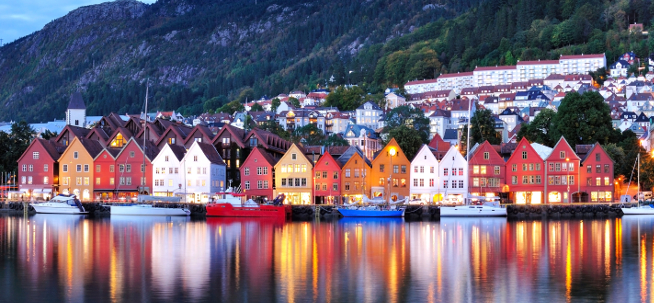 Bergen Cruises
Often referred to as the 'Gateway to the Fjords', Bergen is the second largest city in Norway and one that is packed with history and charm going back through the ages.

In fact, it is the history of Bergen that is one of the main draws for tourists, who will find themselves in the heart of the old city almost as soon as they step foot from their ship.

The Bryggen district on the edge of the harbour is where the first buildings in the city were built back in the eleventh century; with many of the structures being recreated after a huge fire in the early 1700s.

Amongst the most famous of those buildings is St Mary's Church, which is one of the oldest structures in the city. Whilst a walk through the streets to provides to chance to admire the church and the many other historic buildings that have helped to make the area a World Heritage Site, you could also visit the more modern structure that houses the Bryggens Museum; home to a selection of medieval finds located nearby.

Elsewhere, visitors to Bergen can head for a popular aquarium, take a stroll through the city centre park that surrounds a large ornamental lake or pay a visit to the local fish market – which in itself is one of the top attractions of the city. There is also a selection of further museums, with the art and science museums being particularly popular.

With Bergen surrounded by mountains, you may also enjoy a ride on the Fløibanen Funicular, which climbs to the summit of Mount Fløyen, or the Unriken643 Panoramic Tour, which heads for the top of Mount Ulriken.

On both trips, you can then take in the views across the city whilst enjoying a bite to eat from a selection of restaurants.

Heading further afield, visitors to Bergen can embark on a cruise along the nearby fjords or hop on the train to journey along the scenic Flåm Railway to marvel at the beauty of the surrounding area.