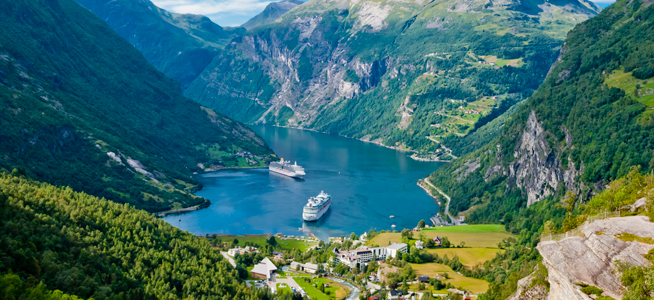 Norwegian Fjords Cruises
Widely regarded as one of the top unspoiled travel destinations in the world, the Norwegian Fjords provide a unique cruise experience unlike any other.

Created when glaciers retreated and sea water was left to flood the u-shaped valleys left behind, the Fjords now provide the most stunning of backdrops to a cruise break, with the deep waters accessible by modern ships which are able to cruise along the coast before heading 'inland'.

It is there where the real beauty of the Fjords can be fully appreciated, with the chance to admire beautiful forests, steep valleys, awe-inspiring mountains and stunning waterfalls from the best seats in the house.

As well as exploring the peaceful tranquillity of the Fjords, a cruise in the region also provides the chance to explore historical towns and cities like Stavanger and Bergen and – depending on the time of year – to experience the natural phenomenon of the Midnight Sun.

If you want to explore somewhere new, or want to unwind in stunning and peaceful surroundings, then the Norwegian Fjords should be near the top of your list.