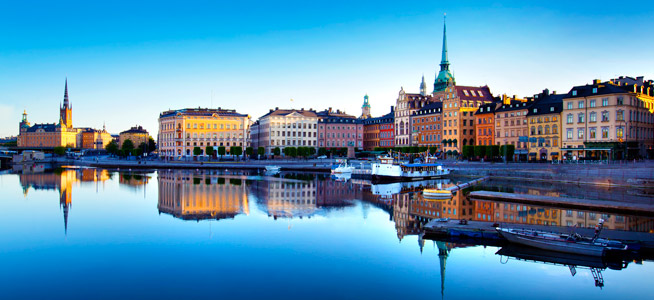 Sweden Cruises
With a coastline that runs along the fringes of the Baltic Sea, Sweden is one of Scandinavia's most popular destinations when it comes to taking a cruise holiday at sea.
Beautiful diverse landscapes, historic towns and the opportunity to explore the culture and character of the Swedish people are all primary reasons why a cruise around Sweden is sure to be memorable for all the right reasons, with a selection of destinations simply waiting to be explored.
The capital city Stockholm is one of the most popular, and holds a unique position on a network of islands on the coast. Packed with museums and galleries - including the famous National Museum of Fine Art and the Vasa Museum, complete with 17th century ship – Stockholm is treat for those who want to examine the history of the country, while the Royal Palace is also worth a visit.
One of Europe's cleanest cities, Stockholm is also ideal for those who want to take a walk through its numerous parks and simply take in the sights.
A trip to Gothenburg on the west coast is just as appealing, with the vibrant city being ideal for those who want to sample top class Swedish cuisine or who want to travel back in time with a visit to the City Museum – which covers an astonishing 12,000 years of history and is home to the Äskekärrsskeppet, a ship that dates back to the time of the Vikings.
The famous Botanical Gardens are also worth a visit, while Gothenburg is a shoppers delight thanks to a selection of boutique stores and the fact it is home to one of Scandinavia's largest shopping centres.
Add into the mix the living museum that is the walled city of Visby and the sandy beaches of Halmstad and it's clear to see that a Sweden cruise should play a part in any Baltic itinerary.