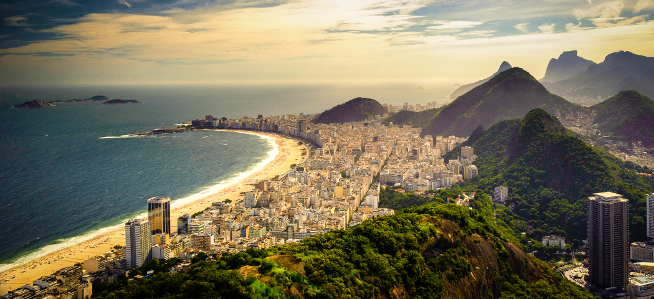 Brazil Cruises
The largest country in South America, Brazil has long been popular with overseas tourists, with plenty to see and do for all kinds of holiday makers.

Those on a cruise around Brazil can sample a wide range of delights on the course of their trip, with today's modern ships calling in at a large number of destinations around the country.

Arguably the most famous port of call is the vibrant city of Rio de Janeiro; known around the world for its colourful carnivals, its Latin flair and its friendly people.

The options are almost endless when it comes to things to do, with a visit to Rio sure to be a highlight of any Brazil cruise.

Famous sites like the Christ the Redeemer statue, Sugarloaf Mountain, the Maracana stadium and the Tijuca National Park are certain to feature highly on the 'to do' list, while there is ample opportunity to explore the shops, bars and restaurants around the city.

No trip to Rio would be complete without visiting the beach, with the white sands of the Copacabana – visited by millions of people every year - being one of the most iconic anywhere in the world.

Elsewhere on a cruise around Brazil, there is the chance to take in the colonial architecture and historical buildings around Santos, to head for the bustling capital Sao Paulo, to take in the rugged landscapes of Ilha-Grande and the boutiques and galleries of Salvador.

With such variety on offer, a cruise around Brazil is sure to deliver.